BR with Elsbeth

3.5 stars
Sweet story.
But I did feel as if there was something missing.
I liked Bull, but I hated the fact that he was called Bull, instead of his own name, Jon. I mean, I understand Bull was a big tattooed guy, but when I read Bull, I see this.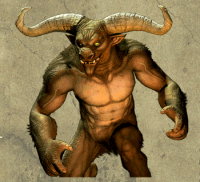 Now try to imagine this guy having sex!
And I really did like Ian, but I did find his need to constantly defend himself when there was no threat pretty tiring.
The things I really did like:
- I loved how Bull always wanted to take care of everyone around him.
- Ian was cute.
- The guys at the garage were awesome!
- The sex, it was HOT.
Things I liked less:
- It was really unrealistic that Ian supposedly didn't know what an orgasm was or had never had one in his entire life. It also didn't contribute anything to the story. Describing Ian as innocent would have sufficed.
- Bull calling Ian Red and then everyone is calling him Red. And when Ian asks people to call him Red I thought it was a bit strange..
- The whole affair with the father was pretty boring and all I could think was, just get on with it.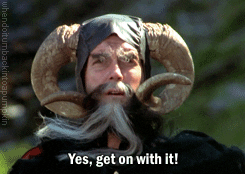 (The guy even has horns, how appropriate!)
Thanks to
315
for the rec! I really did enjoy it, even though I had some issues with it.