3.5 stars
Teenage Sterek. Derek's POV.
Derek and Stiles are both 18 and have been best friends all their lives.
I really liked the idea of nerdy Derek with Stiles trying to seduce him. But I must say in the end I was really annoyed with Derek's thick-headedness. It was ridiculous.
The sex was great.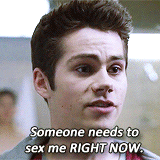 Well, it takes Derek a long time to get to that point, Stiles..