My first book about dog shifters! It was just as cute as I'd hoped it would be.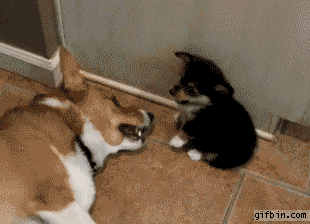 Tim is 23, jobless and pretty broke. He moves to Mad Creek to start a new life and hopefully get his plants and vegetables growing enough to start his own business. He is shy, cute and pretty impressed by the sheriff in town, Lance.
Lance is a dog shifter and trying to find out what it exactly is that Tim is trying to grow. Because he suspects Tim is growing pot, he decides to keep an eye on him. And what a better way to do this than in his dog form.
Tim feels his life is pretty hopeless. Thank heavens for his dog Chance. He just can't figure out why he is so taken with the dog. And why he reminds him of the overbearing sheriff of the town..
I adored Tim. He had a tough past, but he just kept going. I just wanted to hug the shit out of him!
The sex was great. The sniffing a little weird at times, but just go with it. I was a bit confused at the end when I missed the important sentence of Lance turning back to human and where I thought I was reading a sex scene with Lance the dog. I was mighty relieved to see it was my mistake and not Eli Easton venturing into the land of bestiality...
This was great fluff. With dogs!