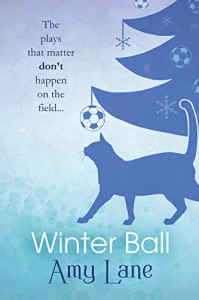 My 1000th book on GR. Woohooooo.

Oh, how do I love these Amy Lane low-angst books.
This was such a sweet GFY, best-friends-to-lovers story.
Skipper and Richie have been best friends and soccer buddies for the past 6 years. When they are talking about their previous relationships and how neither of them can seem to stay interested in a woman, something else happens. They kiss, they touch.
What I really liked about that first scene is that there is no awkwardness after. Both are just thinking:
We must do this again. We must do this again.
The GFY in this was just perfect.
These guys have been best friend for years and they are somewhat struggling with the whole gay thing. Not how it feels between them, but more how to fit their new relationship into their lives.
There is no angst within the relationship, these guys were it for each other.
I adored the guys' soccer team and especially loved Carpenter.
These guys were lovely together. This is a loving, tender, and sweet holiday book. I absolutely loved it.